Super Stoked to be performing at THE BIG SECRET FAMILY FESTIVAL!!
June 11th at Salvage Station in Asheville, NC - THE BIG SECRET FAMILY FESTIVAL! Grab your family and come join SECRET AGENT 23 SKIDOO, THE SECRET AGENCY, YO MAMA'S BIG FAT BOOTY BAND, FIRECRACKER JAZZ BAND, TOYBOX THEATRE, & JOHN GRANT for a day full of funk, hip-hop, jazz, circus acts, and Cherokee storytelling for the whole family. All the profits go to BELOVED, and organization helping Asheville's unhoused and working poor communities and helping create racial equity. 
Its the second year of THE BIG SECRET Family Festival, so don't miss this one. 
Come out and boogie down!!
Tell EVERYONE not to tell ANYONE!!!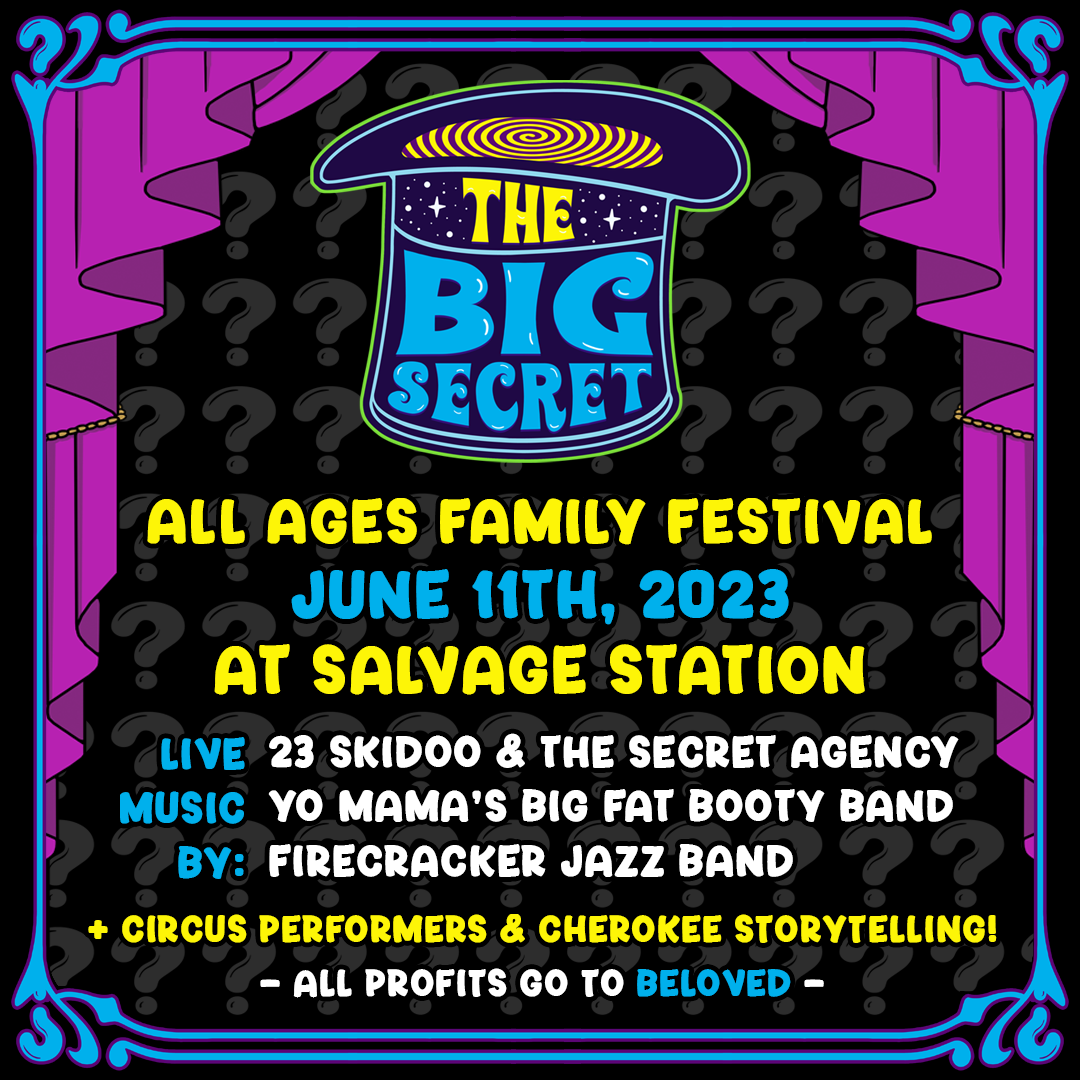 YO ASHEVILLE!!!
Saturday May 6th
Yo Mama's Big Fat Booty Band is rockin Pisgah Brewing's 18 Year Anniversary Party on the outdoor stage. Joined by Lureto from Charleston, SC and Asheville's legendary Dead tribute band Phuncle Sam. Gonna be a Party!!
Gates at 5:00pm Music at 6:00pm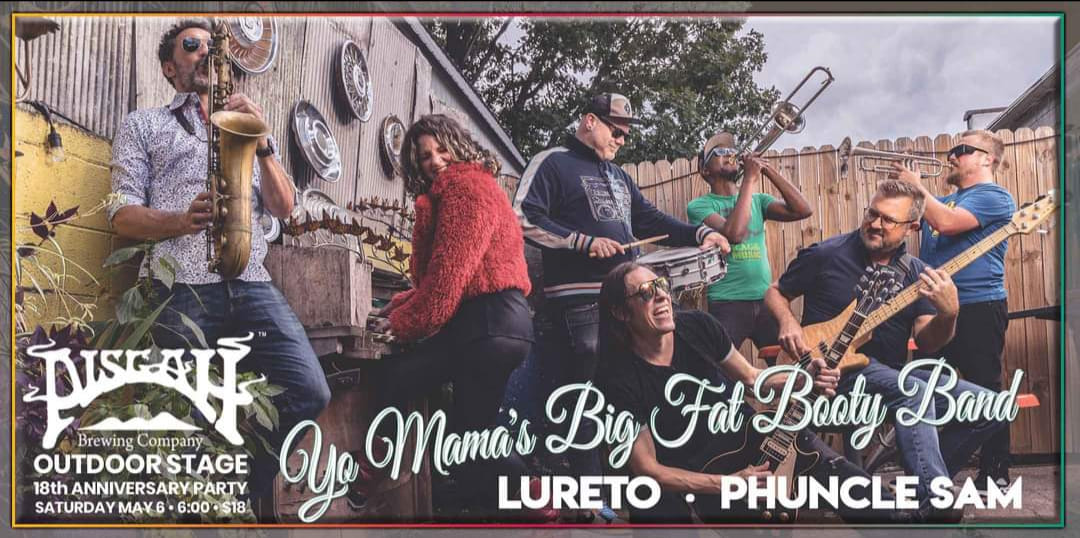 The FUNK is coming to Alabama!!
Yo Mama's Big Fat Booty Band is headed to Huntsville, Al
Saturday April 22nd the 3rd Annual Crawfish Festival
with our friends Funk You, Flow Tribe and more. 
Join us for all the fun!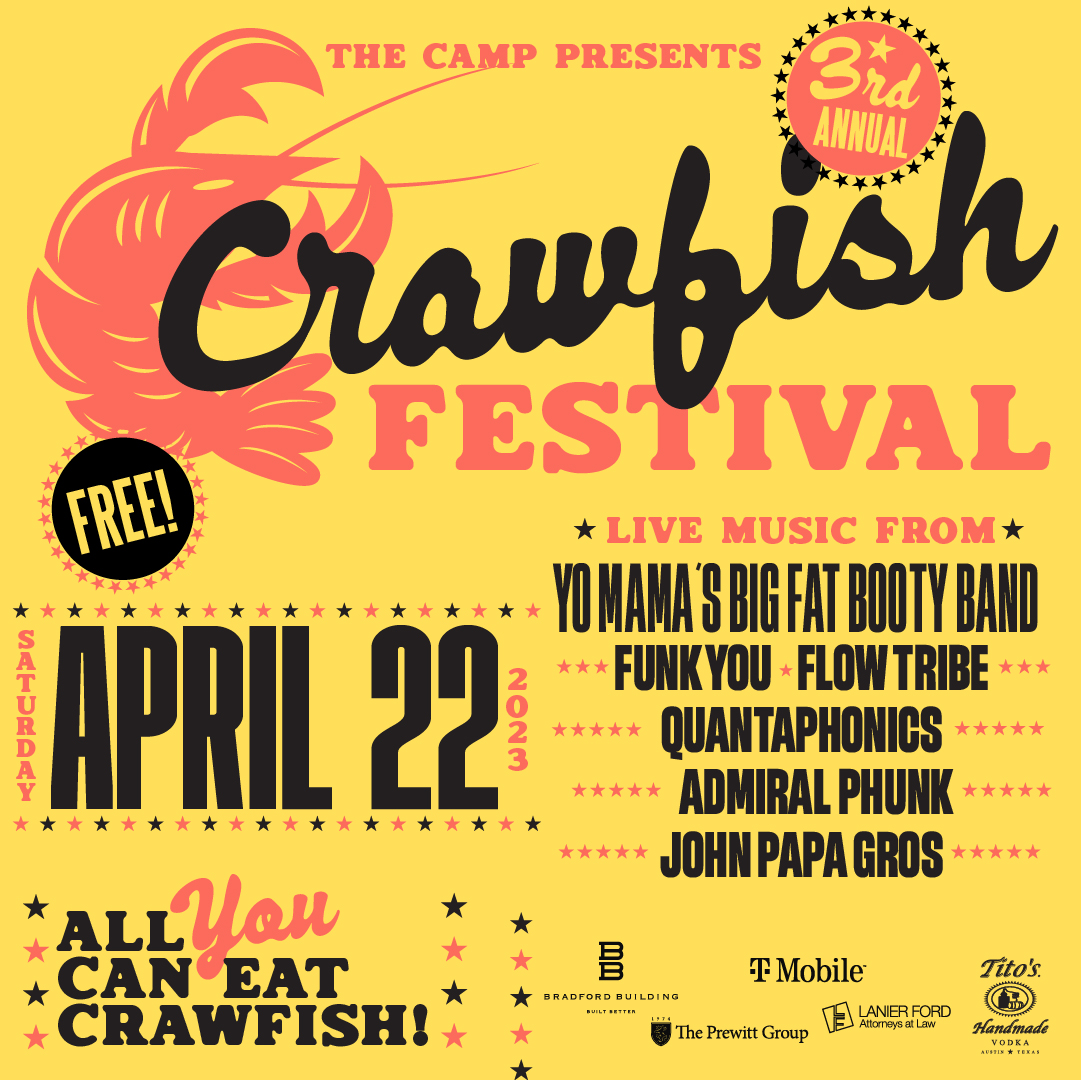 BOOTY BAND IS HEADED BACK TO BOONE, NC!!
Saturday June 17th at
BOONERANG MUSIC & ARTS FESTIVAL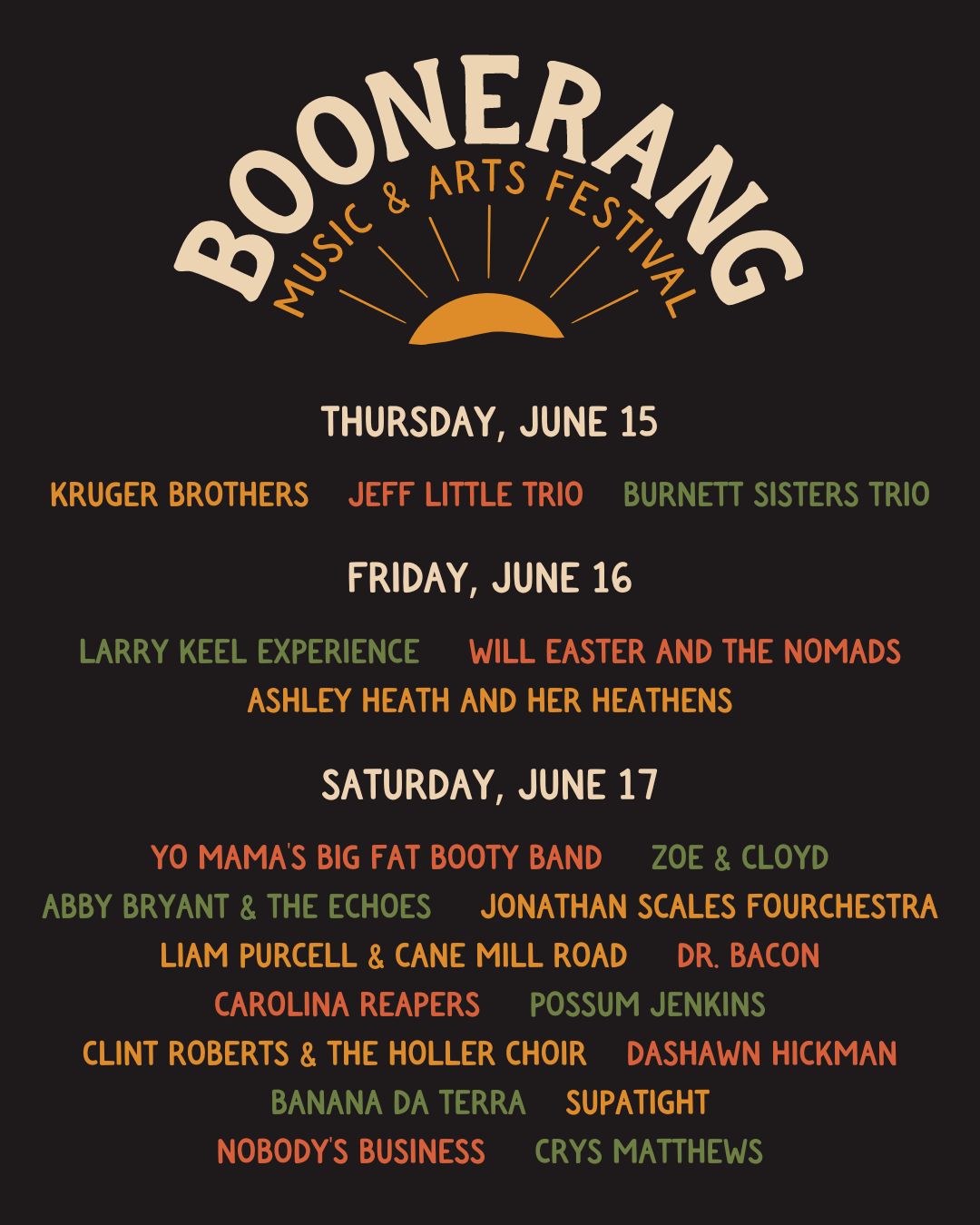 Atlanta Friday 2/24
The Garden Club at Wild Heaven Beer - West End
1010 White St. SW
Atlanta , GA 30310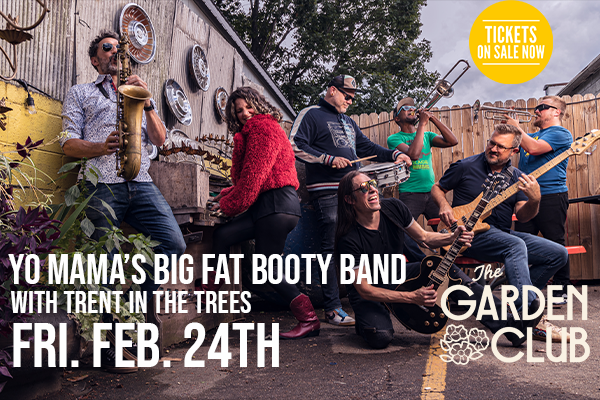 Yooooooo Charlotte, That FUNK is comin for ya in February! 
2/11/23 at Visulite Theatre 
Local favorites Cosmic Collective will be warming up the night. This will be a fun one! 
Get Tickets at: https://www.visulite.com/showDetails.cfm?showID=10393
---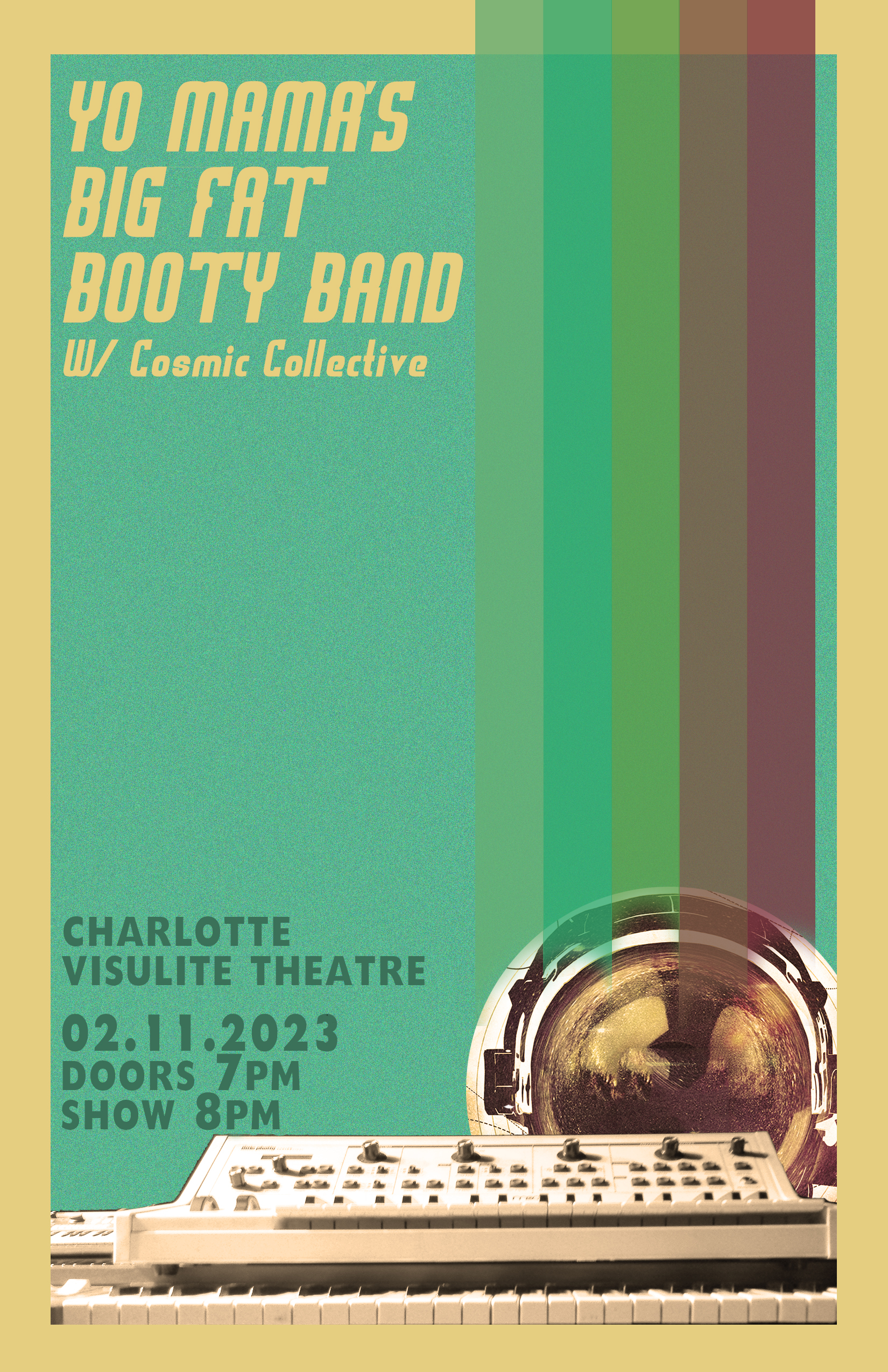 YO MAMA'S BIG FAT BOOTY BAND IN ASHEVILLE FOR NEW YEARS EVE
ASHEVILLE MUSIC HALL
With Special Guests April B & The Cool
Get Tickets:
NYE2023-Asheville.eventbrite.com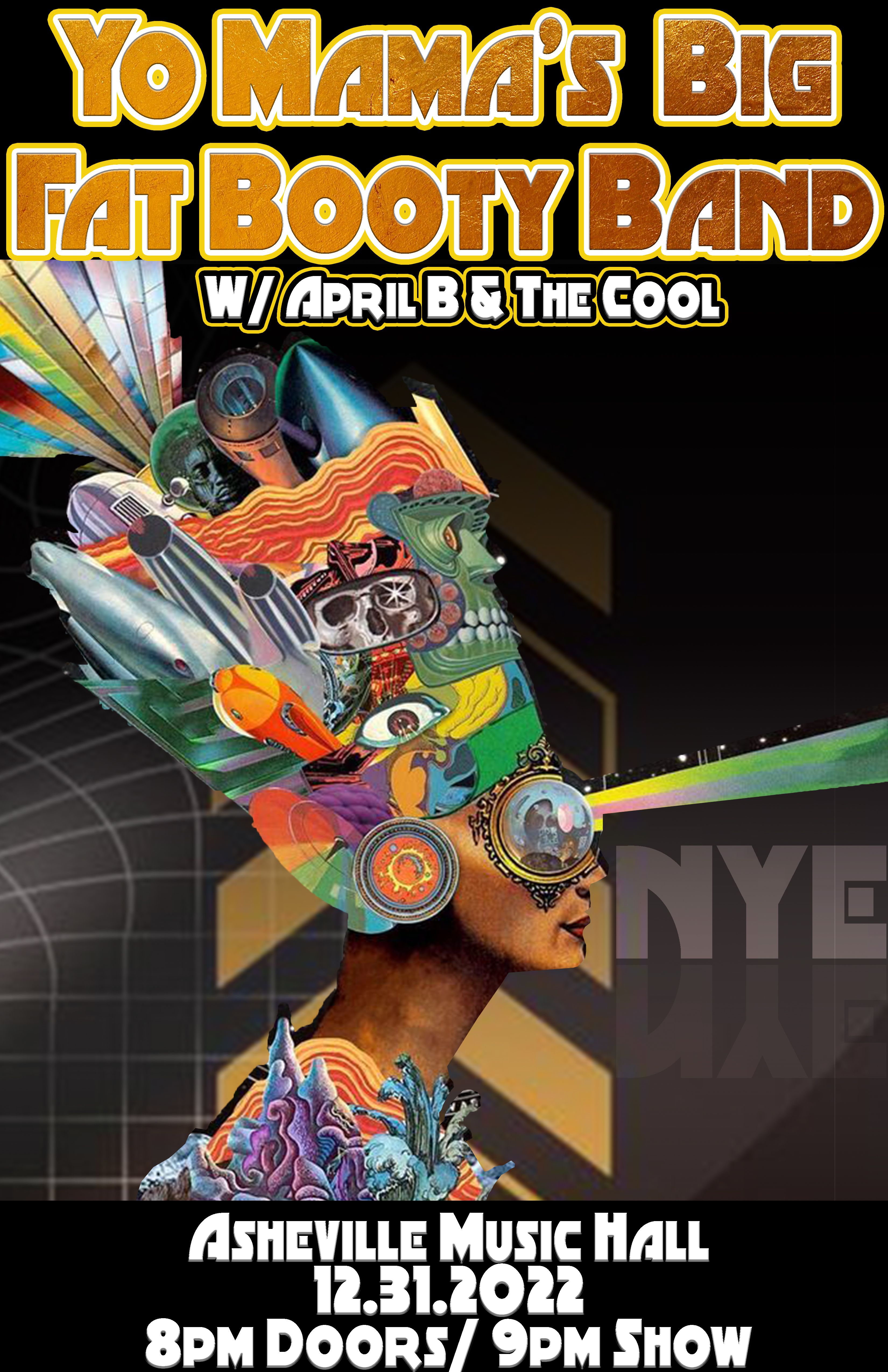 ---
---
Charlotte, NC  We're coming thru to bring you some FUNK!!
Saturday, October 22nd at the HODLWEEN Halloween Party.
Live at The Hamilton Event Spaces 820 Hamilton Street Charlotte, NC 28206
Use the code 
BOOTYBAND 
for a discount on tickets!
---
LEAF FESTIVAL is almost upon us! Pretty soon these two crews will unite into one multi headed hydra of family FONK!
THE SECRET AGENCY (feat. SECRET AGENT 23 SKIDOO ) + YO MAMA'S BIG FAT BOOTY BAND!!!
Friday Oct 21 at 7:00 SHARP!!
Ain't nothing more beautiful than Lake Eden reflecting the autumn sky while the dopest funk you ever heard echoes from the hills as you and your family git down to uplifting beats and rhymes, yall! See you at the SHOW!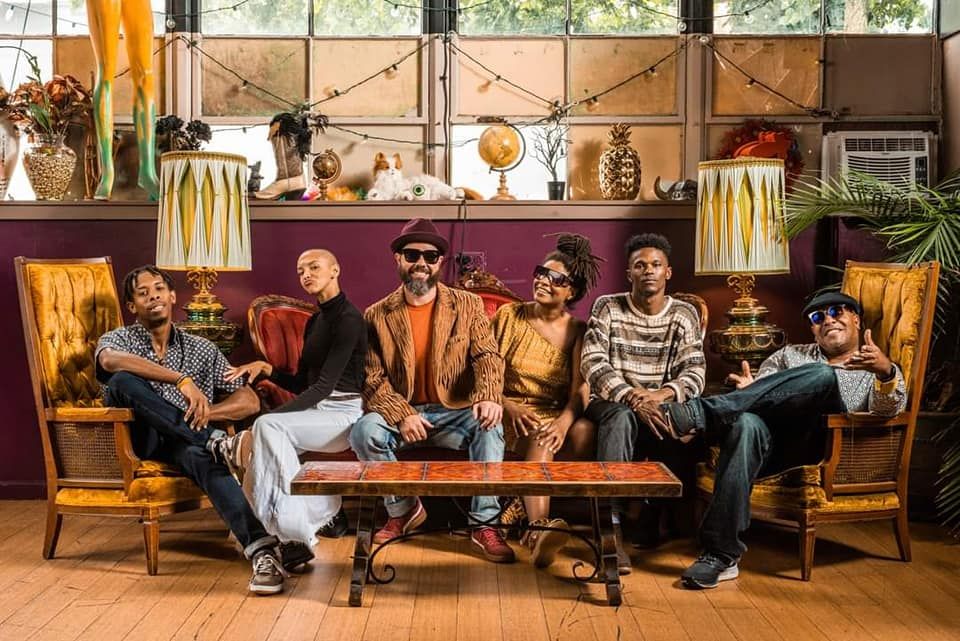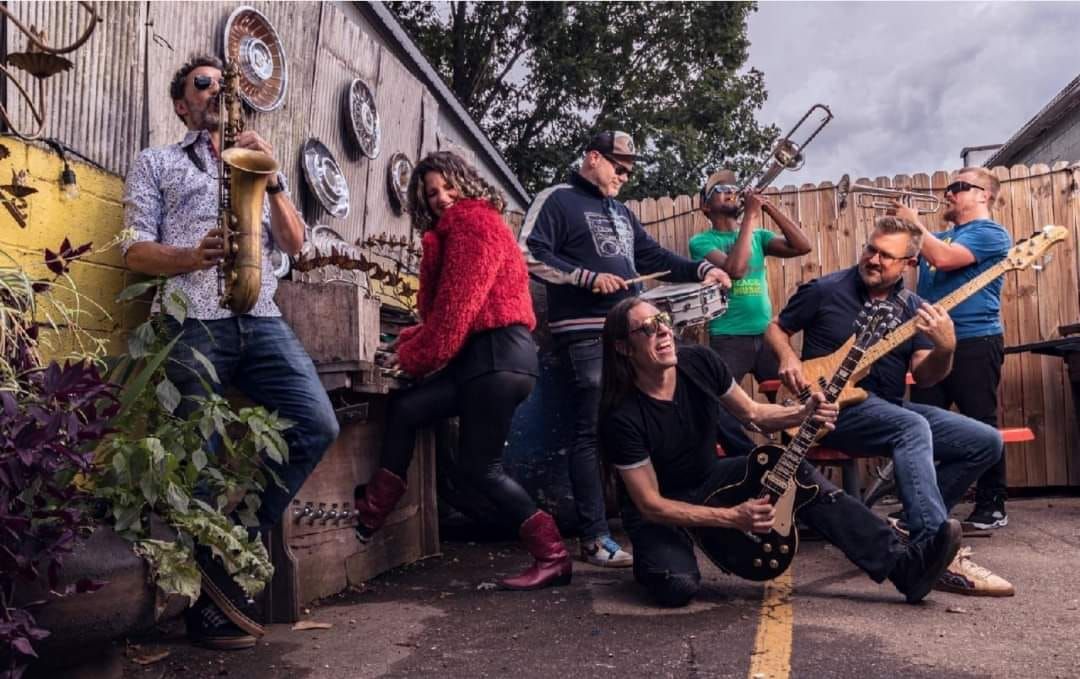 YO MAMA'S BIG FAT BOOTY BAND LIVE IN CHARLESTON FRIDAY 10/7!!
With Special Guests - Hayley Jane
GET TICKETS: https://www.eventbrite.com/e/yo-mamas-big-fat-booty-band-w-hayley-jane-tickets-394346249247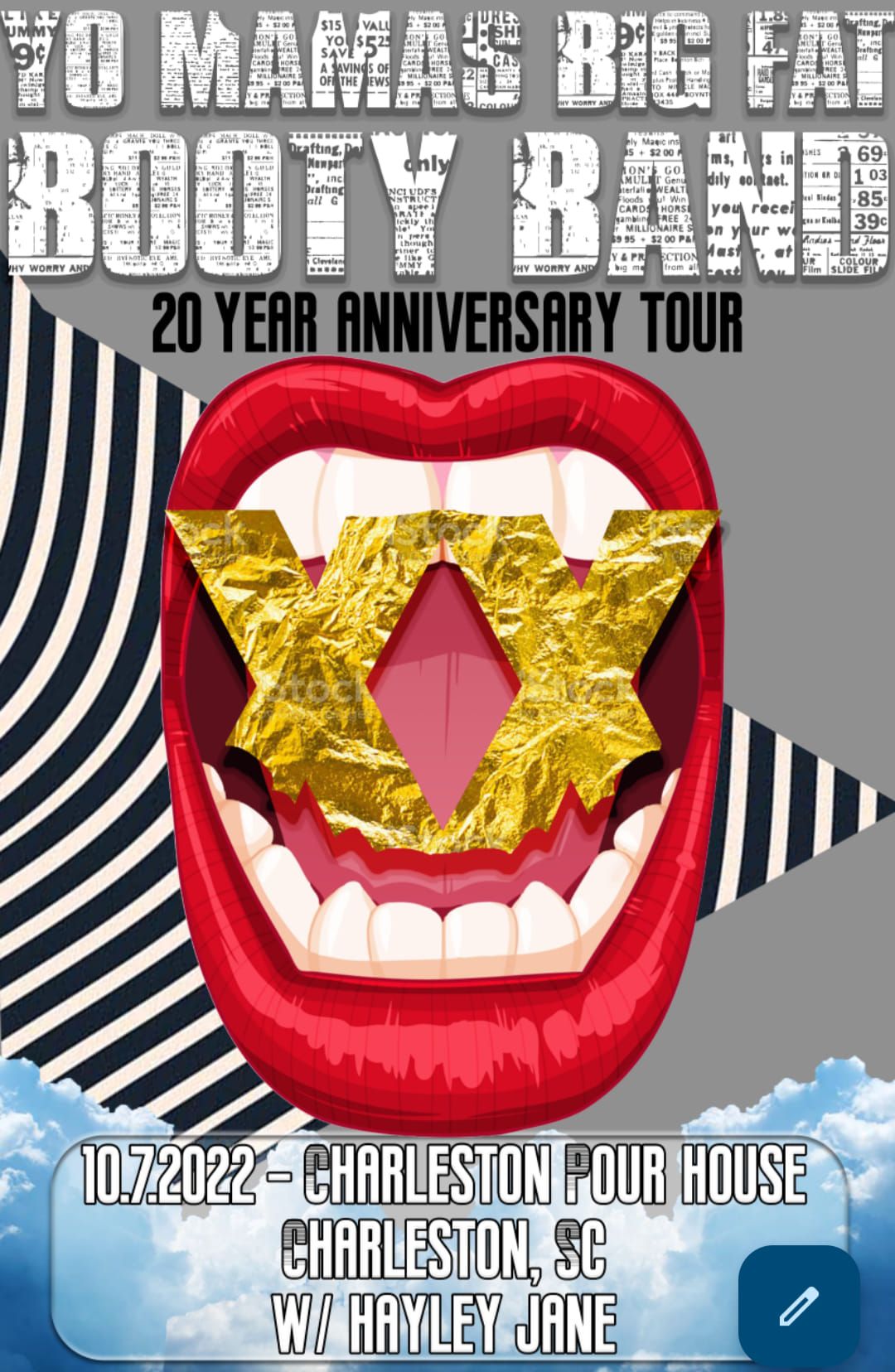 20 YEAR ANNIVERSARY SHOW!!!
FRIDAY SEPTEMBER 16TH
YO MAMA'S BIG FAT BOOTY BAND LIVE AT SALVAGE STATION IN ASHEVILLE, NC
This year is the 20th ANNIVERSARY of Yo Mama's Big Fat Booty Band and we're gonna blow it out with one hell of a celebration! The band will be performing *TWO SETS* — including one special early-2000s throwback set featuring original members, guest musicians, and support from Josh Clark's Visible Spectrum — LIVE on the Outdoor Stage at Salvage Station on Friday, September 16th, 2022, and you do NOT wanna miss this very special event!
Doors open at 5pm and the music starts at 6:30pm. This is a General Admission, ALL-AGES show! (Kids under 7 attend for FREE; tickets otherwise required.) 
GET TICKETS: https://www.ticketweb.com/event/yo-mamas-big-fat-booty-salvage-station-outdoor-tickets/12361685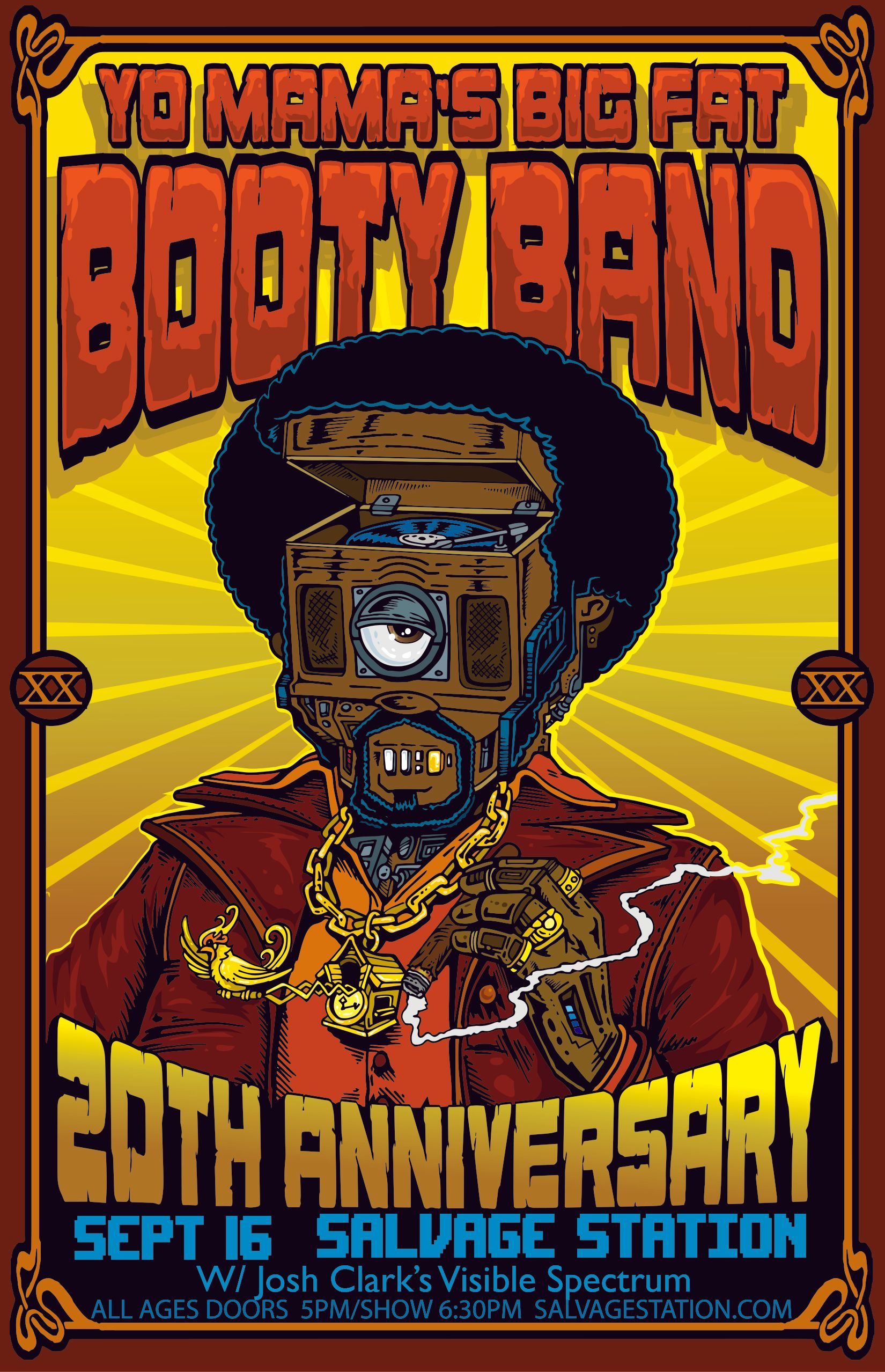 FRIDAY SEPTEMBER 9TH
YO MAMA'S BIG FAT BOOTY BAND AT ZIGGY'S SPACE
GET DOWN TO SOME FUNK AT THE NEW ZIGGY'S IN HIGH POINT, NC
TICKETS ON SALE AT https://ziggys.space/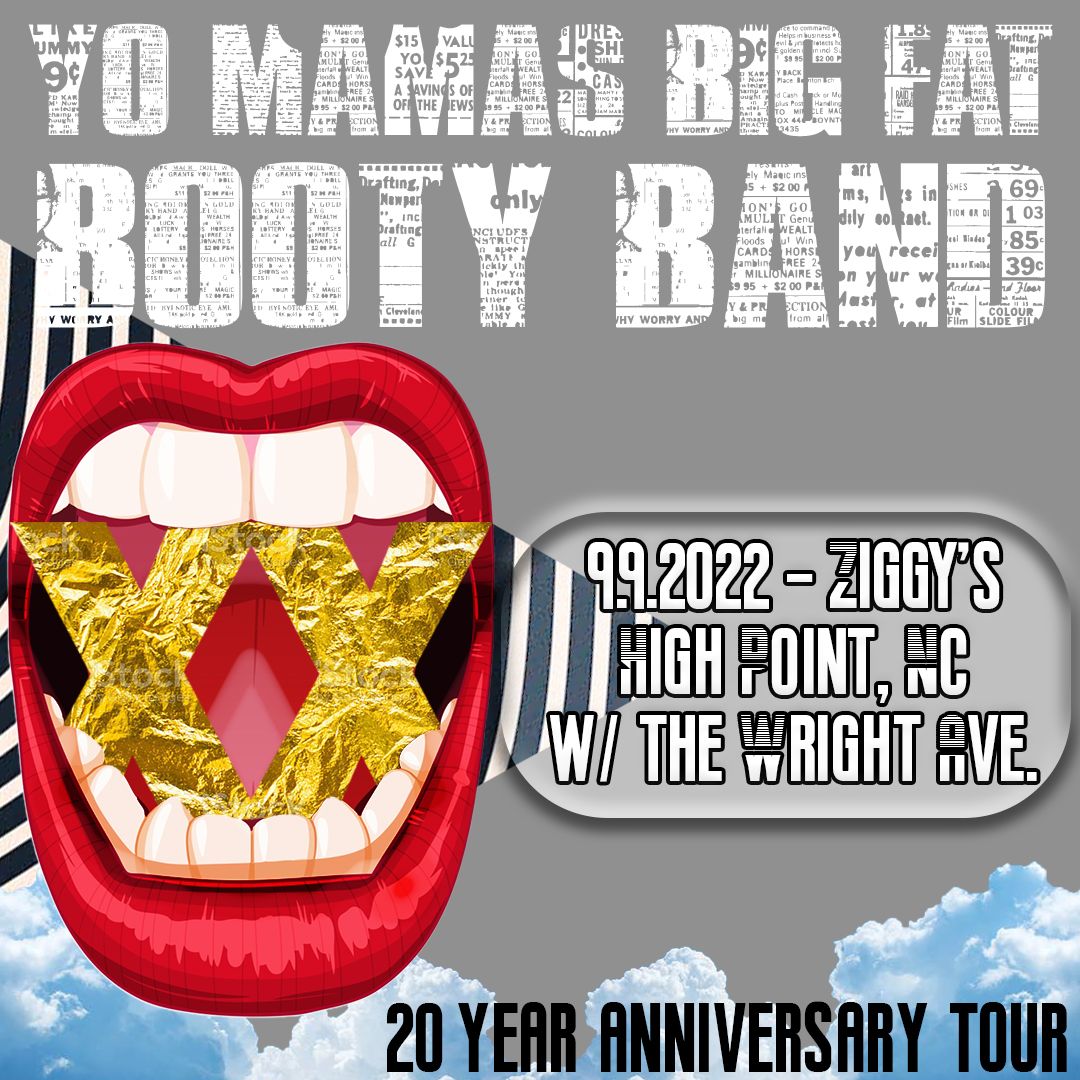 SATURDAY AUGUST 6TH
GET DOWN ON SOME FUNK IN CINCINNATI!
BOOTY BAND WILL BE PERFORMING LIVE AT SAWYER POINT SUMMER CONCERT SERIES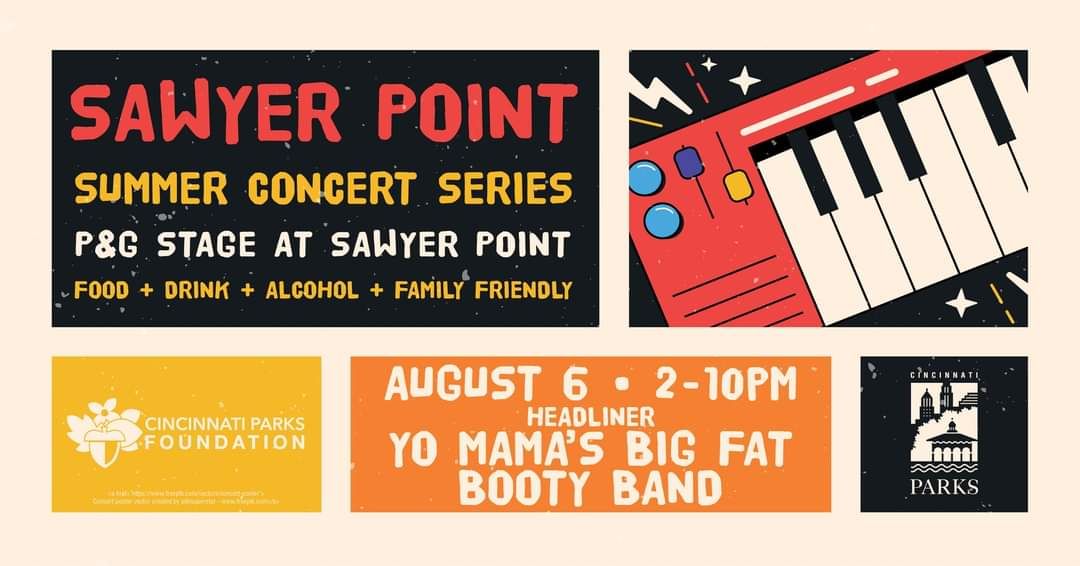 The Third and final Sawyer Point Summer Concert Series of the season, featuring Yo Mama's Big Fat Booty Band.
This event is free! There will be food, drink and alcohol for purchase on site. Bring your family and friends for a fun night of music and dancing.
Line up:
2 - 3:30pm Brothers Smith 
4 - 5:30pm Peridoni 
6 - 7:30pm Ernie Johnson From Detroit 
8:30 - 10pm Yo Mama's Big Fat Booty Band
THIS FRIDAY - 5/27 
YO MAMA'S BIG FAT BOOTY BAND, 
FUNK YOU, & ASHEVILLE ROCK ACADEMY
LIVE at SILVERADOS in BLACK MOUNTAIN!!
Doors at 5pm
Show at 6:30pm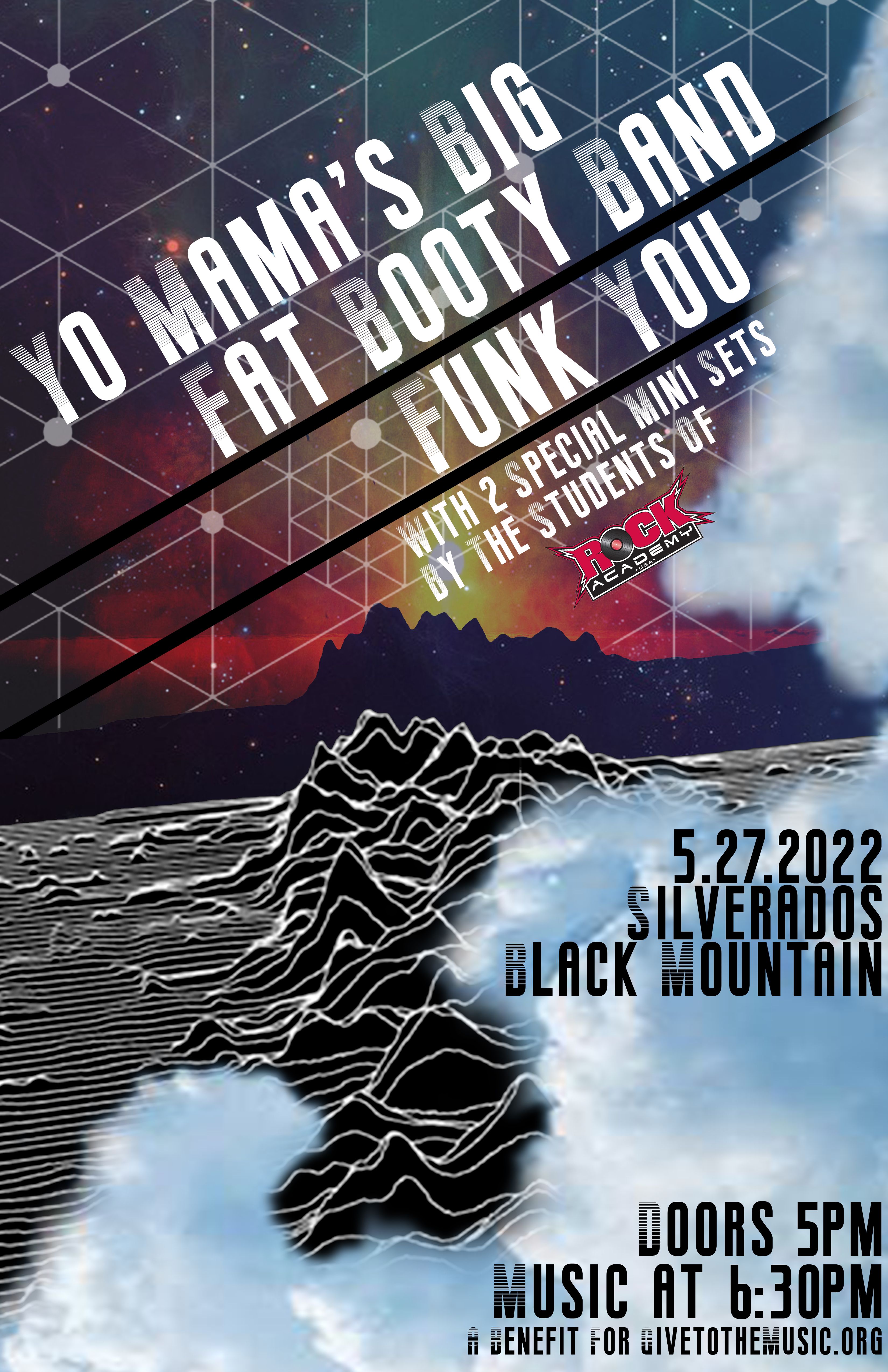 Stoked to bring tha FUNK back to Roanoke!
Don't sleep on this dope Spring Shindig Live at The Penthouse Friday April 1st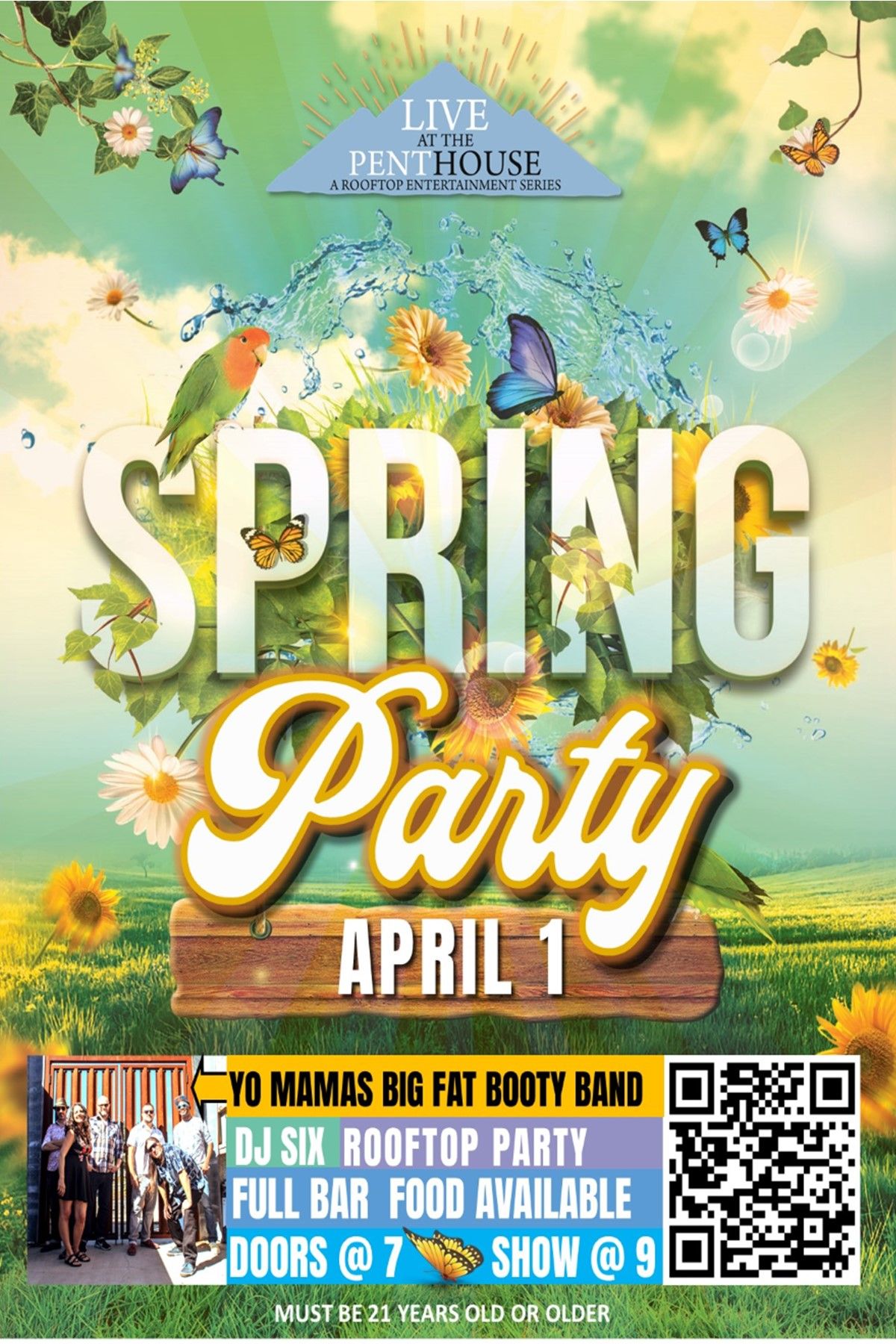 Yo!! This show is gonna be Smokin'!!!
Smokin Shakedown on April 23rd 
At Oskar Blues Brewery in Brevard, NC
$20 Suggested Donation to go to Bread of Life Foundation
Show time is noon to 9pm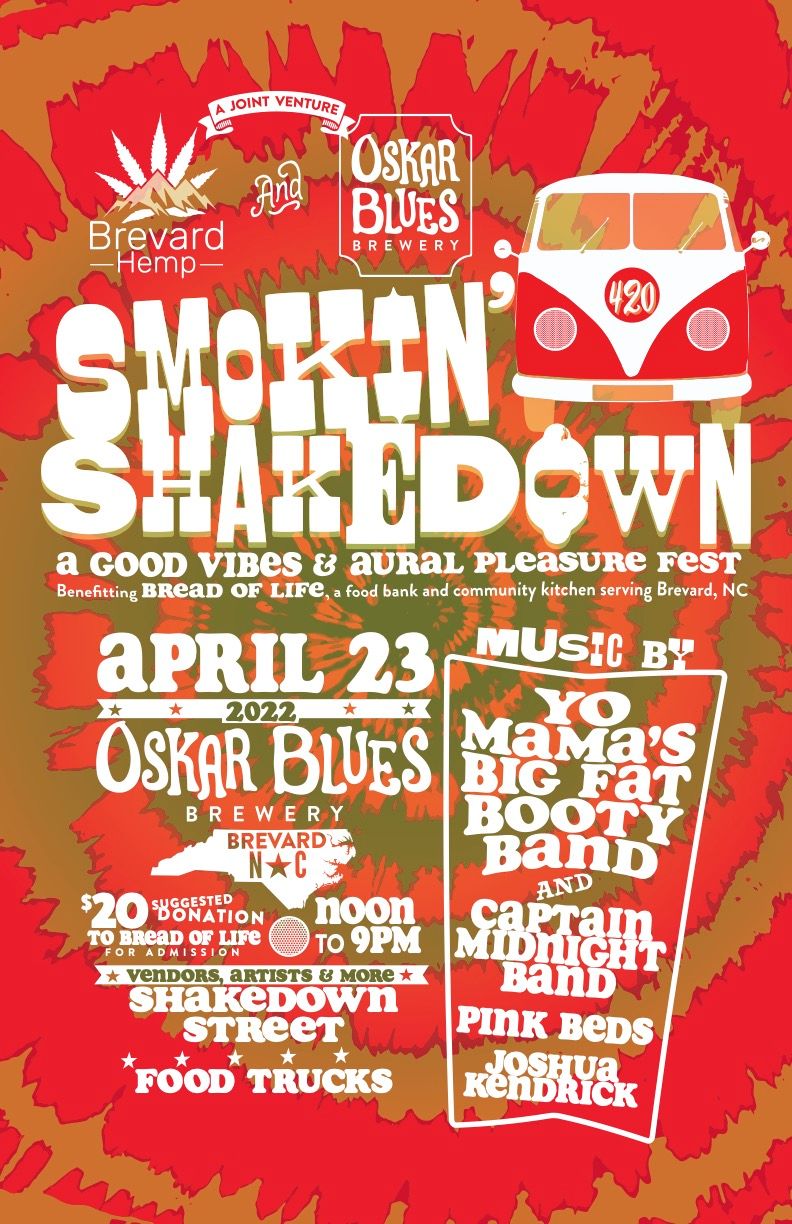 Just Announced -- YO MAMA'S BIG FAT BOOTY BAND in Charlotte, NC Friday April 8th!!
We puttin the Funk back in Charlotte at Visulite Theater with the homies AKITA.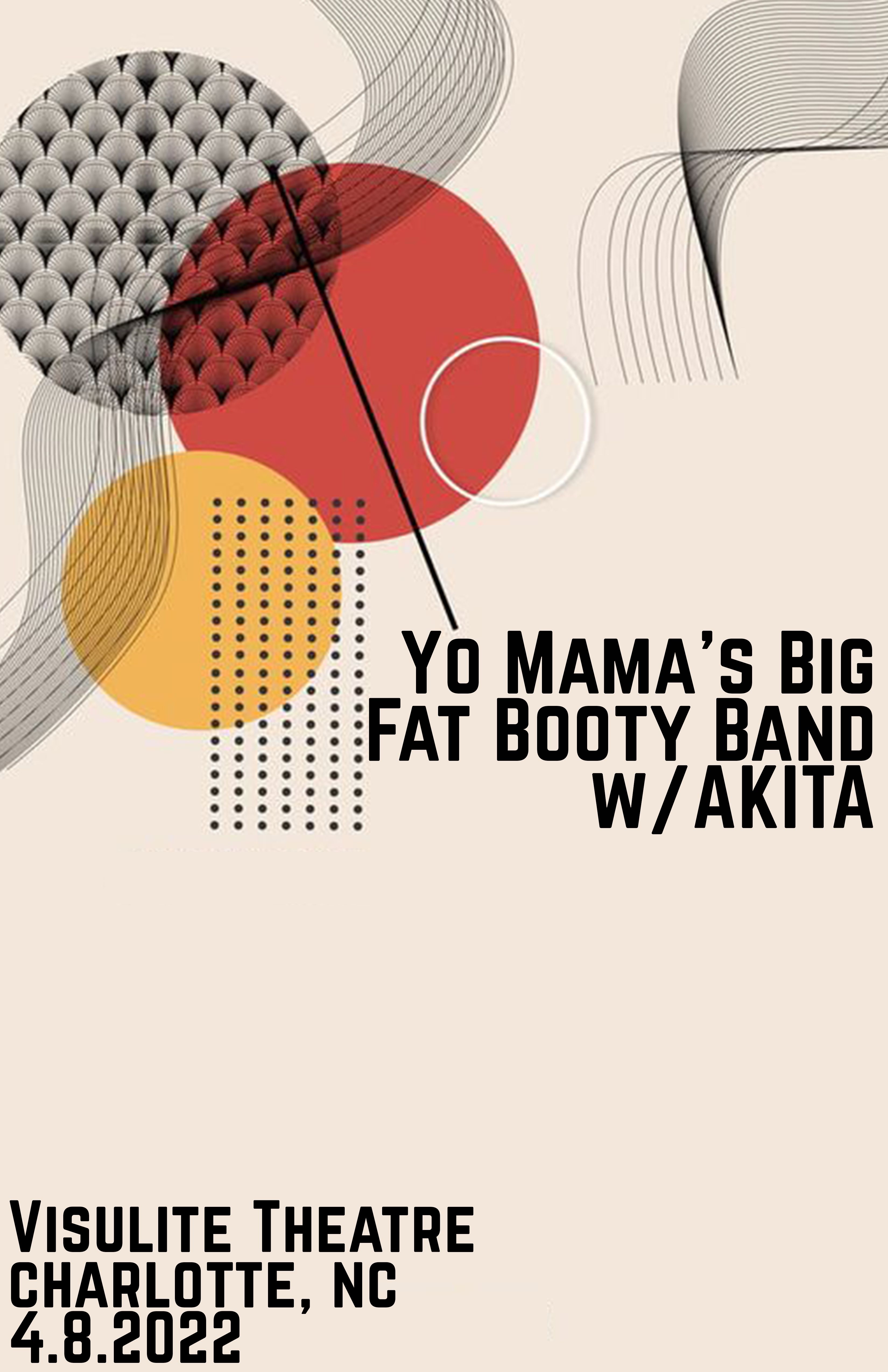 ---
The FuNC returns to Raleigh on St Patty's Day!!!!
YO MAMA'S BIG FAT BOOTY BAND & THE FRITZ
at The Pour House Music Hall in Raleigh, NC
Get Tickets: https://bit.ly/YOMAMA-THEFRITZ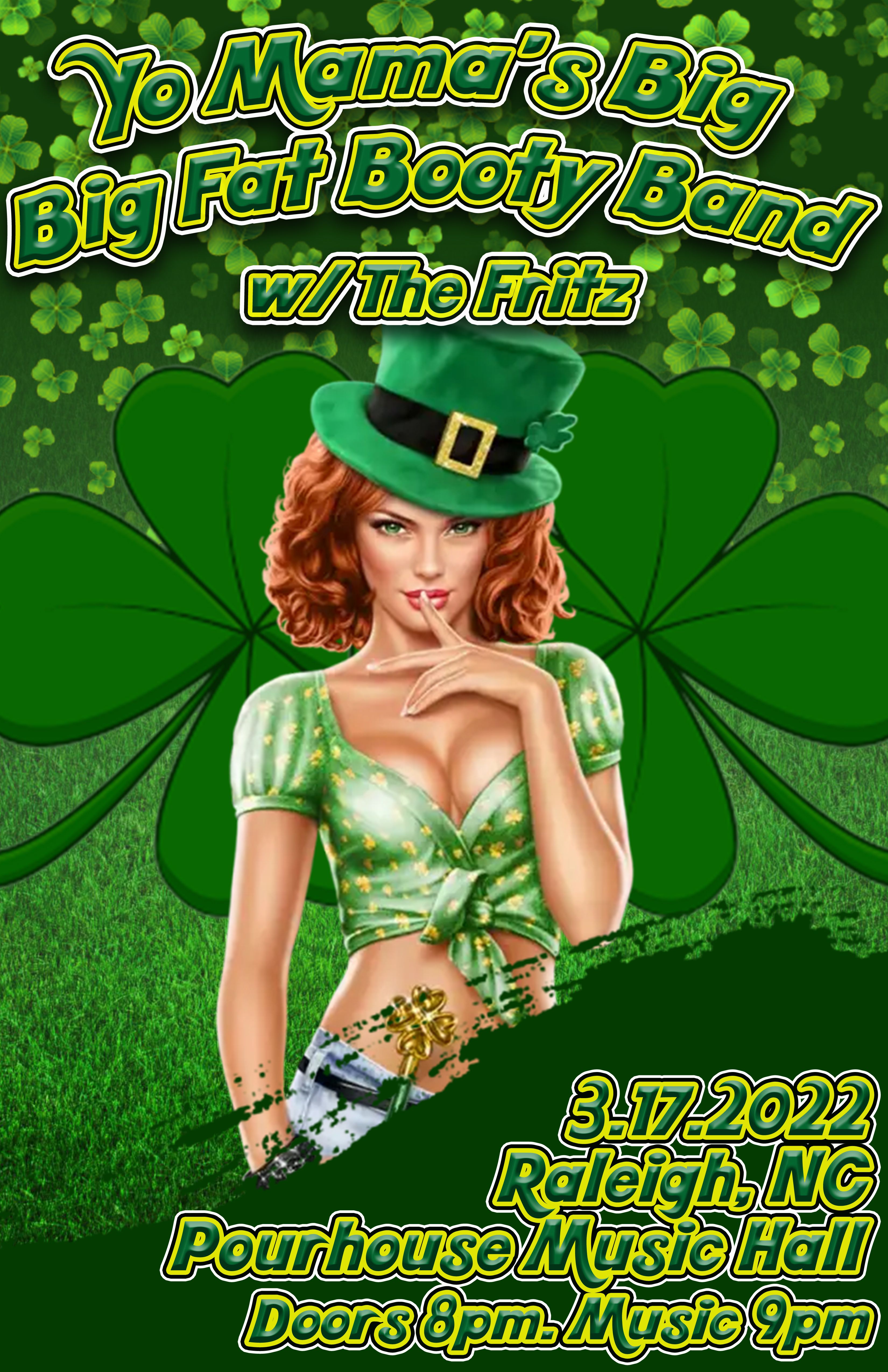 ---
Check out this awesome video from our last hometown show at The Orange Peel in Asheville, NC
---
And the Grammy for Best Children's Album goes to...Secret Agent 23 Skidoo for "Infinity Plus One"!!! 
So grateful to be part of the Secret Agent 23 Skidoo crew that just won the 2017 Grammy for Best Children's Album.
Congrats to Skidoo and everyone who helped make this awesome album.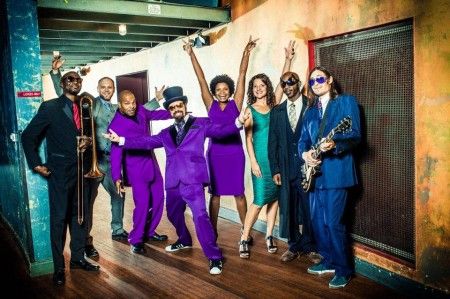 Learn more about Secret Agent 23 Skidoo at http://secretagent23skidoo.com/
Listen to the Grammy Winning album "Infinity Plus One" 
---

CHECK OUT OUR MUSIC VIDEO FOR 24/7
We had a blast recording this music video for 24/7, on our album Funk Life! Big Thanks to Daniel Judson for Directing the video, all the fine folks at New Mountain Asheville, and all the lovely dancing ladies who made this video possible! Hope you enjoy
---
Funk Life Purchase Links
Website in Digital, CD, & Vinyl options - bootyband.com
iTunes - smarturl.it/FunkLife
CD Baby - smarturl.it/FunkLifeCDBaby
 Spotify - smarturl.it/FunkLifeSpotify
Soundcloud - soundcloud.com/yomamasbigfatbootyband
Bandcamp -mp3's, CD's, & Vinyl - bootyband.bandcamp.com
---